Film & Television Work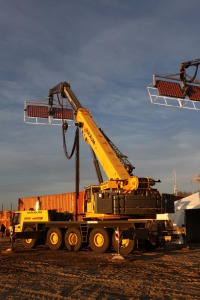 At
Maxum Crane Rentals Ltd.
we have been helping production companies make films for over 30 years. In the early 80's, when we were Sorensen Crane, & D & D Crane, we started working with special effects on shows like The Golden Seal, The Iceman, & The Boy Who Could Fly. Working with John Thomas of Thomas Special Effects, we began doing descender drops & cablecam shots as well as some lighting and stunt work.
Today, we supply cranes to many of the features & television shows shooting in & around Vancouver that need our assistance, from rain & sun cover with the rigging grips, to wire work with the stunt riggers. We have also built many of the sets around town working with construction departments as well as high camera shots from our pinned baskets. Most recently we have worked with Dave Mac & Macattack on their new air walls & air cloud, keeping the elements from the sets.
Here is a list of some of the shows we have worked on.
More pictures and descriptions are coming soon!
2012 Farewell Atlantis
5 Days Till Midnight
5 People You Meet In Heaven
88 Minutes
A Storm In Summer
Agent X
Air Bud
Alaska
Alcatraz
Alien Vs. Predator
Alive
Almost Gone
Almost Human
Alone In The Dark
Arctic Air
Are We There Yet

Arrow
Baby Genius
Bates Motel
Battlestar Gallactica
Big Blast
Big Bully
Bird On A Wire
Black Christmas
Blade 3
Blood Ties
Bordello Of Blood
Boy Who Cried Werewolf
Caesar Rise Of The Apes
Case 39
Catwoman
Chaos

Charlie St. Cloud
Chronicles Of Ridick
Cliff Hanger
Cody Banks
Cold Squad
Connie & Carla
Continuum
Dark Angel
Deck The Halls
Deep Rising
Disturbing Behavior
Don't Look Down
Double Jeopardy
Dream Catcher
Dudley Do Right
Dungeon Siege
The 13th Warrior
Electra
Elf
Elysium
Emily Adams
Eragon
Eureka
Fallen
Fallling Skies
Fantastic Four 1 & 2
Far Cry
Fearing Mind
Final Destination 3,4,5
Fire On The Mountain

Firewall
Flight 180
Frankie & Alice
Freddie Got Fingered
Free Willy 3
Fringe
Glass Cockpit
Global Frequency
Godzilla
Halfback Of Notre Dame
Happy Gilmour
Higher Ground
Homeward Bound 2
Hot Rod

I Robot
I Spy
Insomnia
Intersection
Jennifer Eight
Jeremiah
John Doe
Jumunji
King Of Fighters
Kingdom Hospital
Lake Placid
Lone Gunman
Look Who's Talking Too
Macgyver
Man Of Steel
Man Of The House
Mantis
Marmaduke
Martian Child
Masters Of Horror
Men In Trees
Metalica 3d Movie
Midnight Sun
Miracle On I 880
Mission Impossible 4
Mission To Mars
Monster Trucks
Mordecai
Mr. Mcgoo
Much Music Movie
Night At The Museum 1 & 2
Night Visions
Once Upon A Time
Outer Limits
Pacific Air 121
Paycheck
Percy Jackson
Percy Jackson Sea Of Monsters
Postal
Psych
Reaper
Romeo Must Die
Rumble In The Bronx
Saved
Scary Movie 3 & 4
Scooby Doo 2
Secret Circle
Seventh Son
Short Time
Sixth Man
Sleepwalkers
Smallville
Snakes On A Plane
Snow Falling On Cedars
Sole Survivor
Stakeout 1 & 2
Stargate
Stay Tuned
Stepfather
Stood Still
Strange Days
Super Natural
Super Volcano
The A Team
The Anti Trust
The Big Year
The Boy Who Could Fly
The Core
The Day The Earth
The Extremist
The Flash
The Fly 2
The Fog
The Golden Seal
The Grey
The Guilty
The Hunted
The Killing

The Mountain
The Pledge
The Sentinel
The Sixth Day
This Means War
Time Cop
Tin Man
Tomorrowland
Trick Or Treat
Tron 2
True Heart
Twilight Breaking Dawn
Twilight Eclipse
Twilight New Moon
Two For The Money

Two For The Road
Underfunded
Underworld:Awakening
Up Up & Away
V
Viper
Watchmen
We're No Angles
Whisper
Whistler
Wolverine
Wrongfully Accused
X Files
X Men 2 & 3
Fox Sports
Electronic Arts
Mercedes Benz
Comcast
Mountain Dew
Sega
Ford
Mazda
Acura
Nissan
Blockbuster
Citroen
Jurrasic Toys
B.C. Hydro
Sears
Lexus
Microsoft
Td Financial
Berocca
Rona
Budwieser
Nokia